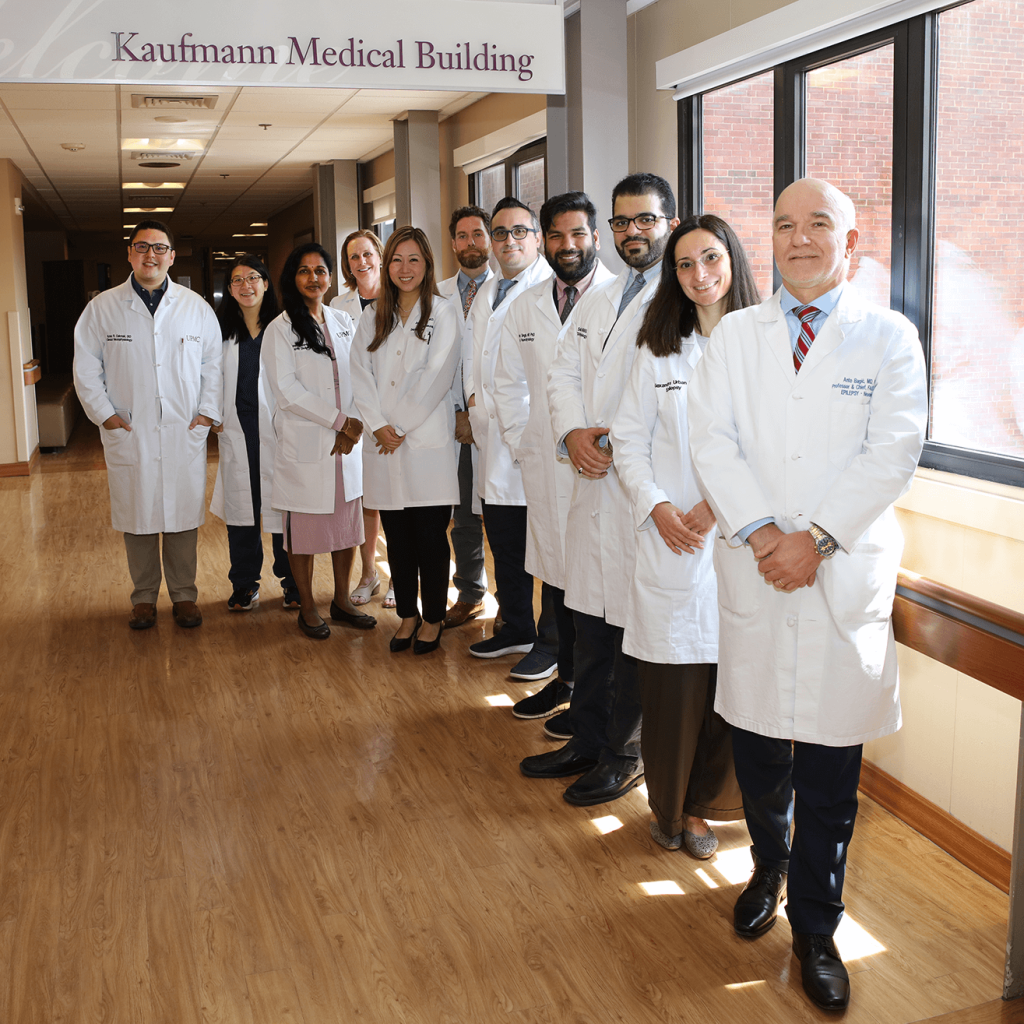 Welcome to the Epilepsy Fellowship at the University of Pittsburgh Medical Center (UPMC). We offer ACGME-accredited fellowships in Clinical Neurophysiology and Epilepsy (combined total of seven positions per year). Usually, 1-2 of these positions are reserved for 2-year fellows wishing to pursue an academic career in epilepsy.
Clinical Neurophysiology Fellowship
Four tracks available: EEG--Epilepsy, EMG--Neuromuscular, ICU--EEG, and Pediatric. 
Graduates of the Clinical Neurophysiology Fellowship are eligible for the ABPN Clinical Neurophysiology Board Certification Examination. 
Epilepsy Fellowship
Two tracks available: Clinical Adult, and Combined Adult-Pediatric.
Graduates of the Epilepsy Fellowship are eligible for the ABPN Epilepsy Board Certification Examination.
Fellowship Overview
We emphasize a balanced training experience between structured didactics, scholarly activities, and clinical experience. We take a special interest in career development and subspecialty board preparation for our fellows while balancing life and enjoying Pittsburgh.
We pride ourselves in maintaining camaraderie and a friendly, open teaching and work environment. The program has a strong faculty base within the neurology, neurosurgery, neuropsychology, neuroradiology departments:
9 adult epileptologists (with additional 2 associate VA epileptologists)
7 pediatric epileptologists
4 neurophysiologists
1 adult epilepsy neurosurgeon
1 pediatric epilepsy neurosurgeon
2 neuropsychologists
Dedicated adult and pediatric neuroradiologists
Training is primarily based at Presbyterian Hospital and Children's Hospital of Pittsburgh (CHP) of UPMC. 
The University of Pittsburgh Comprehensive Epilepsy Center (UPCEC) is an established program with over 30-year-long history of superb clinical care and diverse related research. UPCEC is the NAEC Level IV Epilepsy Center equipped with the most advanced imaging technology: MEG, PET-MRI, and 7T MRI.
EEG and Epilepsy Training
Training includes EEG in all settings, comprehensive Video-EEG (8 adult EMU and 8 Pediatric EMU beds), intracranial EEG (Stereo-EEG using ROSA robot and grids recording), epilepsy surgery, intraoperative corticography and brain mapping. We perform approximately 50-60 combined adult and pediatric epilepsy surgeries per year. The UPCEC has an extensive critical care EEG monitoring service with an inhouse analyst program. Fellows gain expertise in the interpretation of ICU EEG monitoring, including quantitative EEG techniques and work closely with UPMC ICU/CCM services and Status Epilepticus Neurocritical Care team in managing seizures in the critically ill patients. 
The fellows will spend a minimum of one-half day per week in dedicated epilepsy clinics, where they are expected to acquire cardinal skills of comprehensive outpatient care for patients with epilepsy, including those with all forms of medically refractory epilepsy. Fellows participate in VNS and Responsive Neurostimulation (RNS) clinics. 
There is additional exposure to broad diagnostic methods (MRI, MEG, PET, SPECT, fMRI, and MRS). All fellows are encouraged to participate in research with an optional 2nd year Epilepsy fellowship after CNP-EEG track with dedicated research time.
The Intraoperative Neurophysiologic Monitoring (IONM) training program at the University of Pittsburgh provides services across the entire spectrum of IONM techniques including SSEP, MEP, BAEP, cranial nerve monitoring, EEG and cortial mapping. Fellows will be afforded the opportunity to work alongside IONM faculty in the operating rooms as they collaborate with surgical teams. 
Application Process
UPMC will participate in the NRMP Match and utilize ERAS for the July 2024 fellowship start. 
Details regarding requirements and the mailing process are included in the application form. Applicants must be either board-eligible or board-certified in Neurology and have completed an ACGME-accredited adult or pediatric neurology residency in the United States.
Please only submit completed applications that include the LOR to the GME coordinator.
Click here to download the application and click here to view a video showcasing the fellowship program.
---
We look forward to hearing from you!
Alexandra Urban, MD, Program Director, Epilepsy Fellowship
Viji Rajasekaran, MD, Program Director, Clinical Neurophysiology Fellowship
Christina Patterson, MD, Assistant Program Director, CNP - Pediatric Track
Audrey Rohe, Fellowship Program Manager, (412) 647-7654, rohea@upmc.edu